FG MSME Survival Fund Program Registration Guide & Portal: Looking for how to register for FG MSME Survival Fund Program? Trying to access the MSME CRM & MIS Platform for Survival fund registration and application? If yes, then this is the right spot for you to get started.
The Federal Government's MSME Survival Fund registration portal (www.survivalfundapplication.com) has been open for quite some time now. Here, you will learn how to submit your application online by registering on the Survivalfund application portal.
READ ALSO: Waje Smart Solutions Graduate Internship Program 2020
The objective of the FG MSME CRM & MIS Platform is to help with the digital registration, onboarding and management of Micro, Small and Medium Enterprises for the Federal Government Survival Fund Program. The program includes Payroll Support, Guaranteed Offtake and MSME Grant. The CRM & MIS Platform will also enable the inventory management of the Guaranteed Offtake Scheme.
The FG MSME Survival Fund Program is part of the Economic Sustainability Plan, which aims to support and protect these businesses from the potential vulnerabilities brought about by the COVID-19 pandemic.
The MSMEs Survival Fund is implemented by the Buhari administration to help cushion the impact of the COVID-19 pandemic with a view to boosting the economy by saving existing Jobs and creating new job opportunities.
Related posts:
About FG MSME CRM & MIS Platform
The COVID-19 crisis and its attendant restriction on movement of people and border closures is causing all components of aggregate demand to fall. The fall in household consumption in Nigeria stems from restrictions on movement, thus causing consumers to spend primarily on essential goods and services; low expectations of future income and the erosion of wealth and expected wealth.
Movement restrictions have not only reduced the consumption of nonessential commodities in general, but have affected the income-generating capacity of the population, thus reducing their own consumption expenditure.
Nigeria has a large informal sector which contributes about 65 percent of its economic output and a large proportion of the population is clustered around the poverty line thus making them highly vulnerable to falling into poverty due to shocks. The MSME Revolving Guaranteed Off-take Scheme is one of the Federal Government's economic support measures to assist micro and small businesses affected by the pandemic.
The Payroll Support Scheme is aimed at MSMEs adversely affected by the pandemic. The scheme will provide Payroll Support to a maximum of 10 employees per qualifying MSME.
Register
Register to be part of this Federal Government Survival Fund Program with your business and(or) personal information.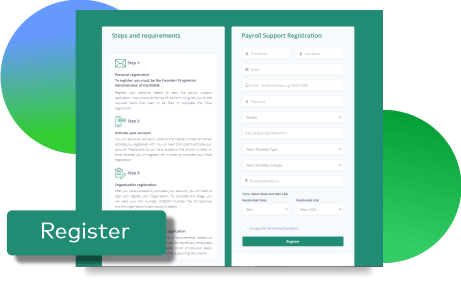 Once you have successfully onboarded, you can register your Organisation. You will need basic information like CAC registration information to complete this.
Onboard
Once fully registered on the platform, complete the onboarding process by adding Organisation, Bank and Employees details.
Upon registration, you will receive an activation code on the registered mobile number, you will be prompted to enter the activation code to activate your account. Ensure you use a password you can remember and your mobile number should be available.
Register on CRM_MIS Platform

Receive an Activation Code
Get Paid
Once your application has been successfully verified, you are then eligible to get paid under the scheme applied for.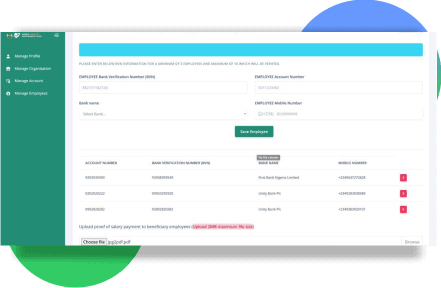 Following verification of the information submitted during your registration and having met the selection criteria, your application will be eligible for payment as specified under the scheme applied for.
Recommended posts:
How to Register for Survival Fund MSME Payroll Support.
The MSME Payroll Support Scheme is a survival fund that will make payroll support available to save jobs and sustain local production.
Registration Guideline.
Visit the registration portal at https://www.survivalfundapplication.com/auth/register
Select MSME Payroll Support or Click on

https://www.survivalfundapplication.com/auth/payroll-support
Step 1: Personal registration
To register, you must be the Founder/ Proprietor/ Administrator of the MSME.
Register your personal details to start the payroll support application. Instructions at the top of the form will guide you on the required fields that need to be filled to complete the initial registration.
Step 2: Activate your account
You will receive an activation code on the mobile number and email address you registered with. You will need this code to activate your account. Please ensure you have access to the phone number or email address you will register with in order to complete your initial registration.
Step 3: Organisation registration
After you have successfully activated your account, you will need to login and register your Organisation. To complete this stage, you will need your CAC Number, SMEDAN Number, Tax ID (optional) and the organisation's bank account details.
Step 4: Completing the payroll support application
You will receive an email with the list of requirements needed to complete the application. These include the beneficiary employees details (not more than 10 employees), proof of previous salary payments to the beneficiary and all other supporting documents.
If you have any questions as per Survival fund registration form, kindly leave a comment ON THIS PAGE or Click Here to Submit Your Queries.