eNaira Wallet App Download – APK and iOS Version: Are you searching for the Central Bank of Nigeria eNaira Wallet mobile app? Do you want to download eNaira App for Android or iOS smartphones? If then, this is the right page for you.
eNaira is a central bank digital currency (CBDC) issued by the Central Bank of Nigeria as a legal tender. It is the digital form of the Naira and will be used just like cash.
READ ALSO: NIMC Mobile App Download – APK and iOS Version
With 81 countries and more on the race to develop own their Central Bank Digital Currencies, let it be very clear that we are not just another CBDC, we are a people-oriented digital currency leveraging technology to connect individuals and businesses for easy trading and financial inclusion. We push the boundaries, bridge the gaps, and tell actual humane stories. We are the foremost audience-centric digital currency brandishing a face.
When the idea was mooted, it was not a bandwagon response to create a CBDC like the rest of the world. We set out with a plan to become a trusted ally to the numerous customers we will serve and our roots continue to be firmly grounded in them. We know what they need because we listen to them every step of the way. No matter where we are in the journey, our goal remains the same – you.
Objectives of the eNaira.
eNaira enables households and businesses to make fast, efficient, and reliable payments, while benefiting from a resilient, innovative, inclusive, and competitive payment system.
eNaira App Features.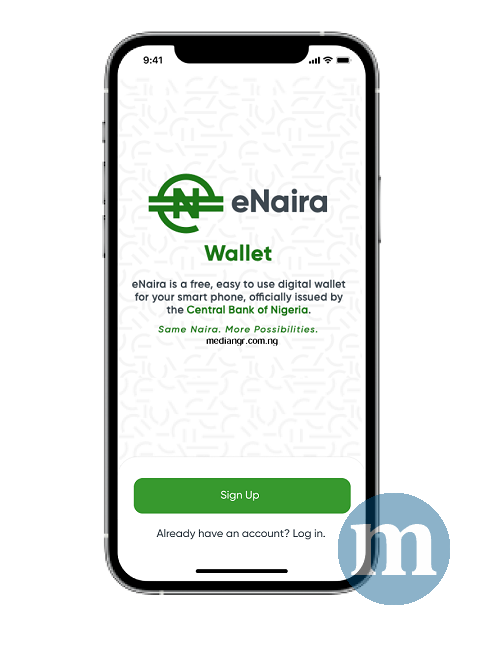 Unified Payment System
Customers can now move money from their bank account to their eNaira wallet with ease.
Contact-less Payment
Customers can make in-store payment using their eNaira wallet by scanning QR codes.
Bank Account Management
Customers can monitor their eNaira wallet, check balances and view transaction history.
Peer-to-Peer Payment
The CBN eNaira App allows users to send money to one another through a linked bank account or card.
Same Naira. More Possibilities.
The eNaira is the Nigerian digital currency that is issued and regulated by the Central Bank of Nigeria. Its functionality delivers speedy, safe, and simple trading and transactional opportunities to customers and end-users:
It is exchanged peer to peer.
It is universal – anybody can hold it.
It does not yield any interest
Other Features of the eNaira Wallet App.
The eNaira is crafted with interesting elements for modern solutions that pay keen attention to details.
Sending/Receiving Money
Customers can now send and receive money faster, easily and at very minimal costs.
Verifying Payments
Customers can verify their payments and look up their transaction history anytime, anywhere.
Financial Institutions Transactions
Intra/inter financial institutions transactions are not only possible, they are faster and cheaper.
Foreign Exchange Transactions
Customers can enjoy speedy transactions across boundaries and a hitch-free foreign exchange.
You May Also Enjoy:
How To Download the CBN eNaira Wallet App.
(eNaira Wallet App APK Download)
Android eNaira App
Click here to Install the eNaira Wallet App on Google Play Store (Android)
OR go to https://enaira.com/download
Sign up as a new user or login to an existing account.
Read the attestation and hit "I Agree"
Input pin number of your choice twice and click save.
eNaira Wallet App iOS Version:
For those using iOS devices, you can simply download the iOS version of the app. Click here to download (iOS Version)

Recommended posts: