World Bank Treasury Summer Internship Program 2024: Are you the equivalent of a rising senior in college working towards a career on the trading floor of a central bank, investment or private equity firm or one of the departments supporting that function? Get a substantial boost down that path with a Treasury Summer Internship. With us, you will not just work in financial markets; you will help create new ones.
The World Bank Treasury Summer Internship Program is a training program for junior professionals who want to develop the skills required for a successful career in the financial industry. Its goal is to attract college students interested in finance and want to support the World Bank's development mission.
Completing the internship is the first step towards becoming a Junior Analyst, a two-year role in a Treasury team that starts immediately after graduation. Applicants must be in their second to last year of a four-year college degree program to be eligible for the internship.
Read also: Best Paid Internships Abroad for College Students & Graduates 2023/2024.
Overview: World Bank Treasury Summer Internship 2024.
The World Bank Treasury is one of the few places you work at the nexus of finance, innovation & international development. The Summer Internship is the only program in the World Bank dedicated to college students. Applications for the 2024 Summer Internship are open until October 15, 2023.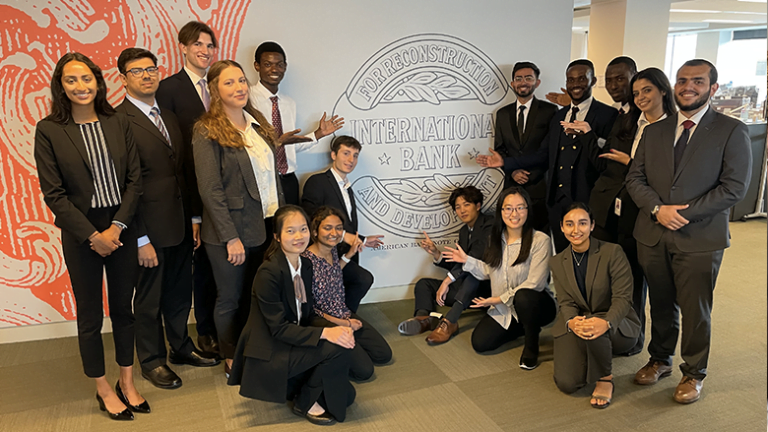 About The World Bank
The World Bank Group is one of the largest sources of funding and knowledge for developing countries; a unique global partnership of five institutions dedicated to ending extreme poverty, increasing shared prosperity, and promoting sustainable development. With 189 member countries and more than 120 offices worldwide, we work with public and private sector partners, investing in groundbreaking projects and using data, research, and technology to develop solutions to the most urgent global challenges.
About The Treasury
The World Bank has been a trailblazer in capital markets for over 75 years since its first bond. We aim to raise funds for our client countries at a reasonable cost and find innovative solutions for the most complex development issues. Our track record proves that capital markets can be a powerful tool for good when used effectively and creatively. We manage the institution's finances to support all World Bank operations and lending. Each year, we issue bonds worth over $50 billion, carefully manage assets worth nearly $200 billion, and process transactions worth over $7 trillion.
Read also: Wema Bank Banker-In-Training Recruitment 2023 [APPLY HERE].
The World Bank Treasury Summer Internship 2024.
Treasury Summer Interns will work full-time for ten weeks from May 28 through August 5, 2024, in Washington, DC. Interns receive a custom onboarding program in the first week before beginning three three-week rotations across Treasury teams. Throughout the summer, interns participate in weekly discussions with the program director and attend a career perspectives speaker series to hear from various Treasury officers, managers, and directors. Interns have access to the nearly 300-employee Treasury, including meetings with the Vice President and treasurer. Interns complete each rotation with a presentation to their respective teams and complete the internship by presenting their work in a capstone project to the management team.
Internship Calendar
Onboarding Week: May 28 – 31
Rotation 1: June 3 – June 21
Rotation 2: June 24 – July 12
Rotation 3: July 15 – August 2
Capstone Presentation: August 5
Observed Holidays: June 19, July 4
Individuals hired as interns will be on a temporary contract. The payment rate will vary depending on citizenship status, with non-US Citizens receiving $20.40 (net) and US Citizens receiving $24.60 (gross) per hour. The total number of hours worked will be 400. All interns must work full-time and be physically present in Washington, DC, for the entire internship duration, from May 28 to August 5. The HR policies may change, but interns are expected to work in the office for at least four days weekly. The World Bank will provide each intern with a laptop at the beginning of the internship. The World Bank will sponsor the visa required for the incoming intern to work in the United States if necessary.
Read also: Fidelity Bank Graduate Trainee Program 2023 & How to Apply.
The Work & Teams
The program will hire up to 16 interns across Treasury's 16 teams this summer, and each intern will have a different rotation schedule to create a different experience. Treasury has four departments and a compliance & controls team. Applicants are encouraged to read more about our organization and each Team. Each Team has an intern mentor and coordinator to supervise and support their work.
Interns will be responsible for specific individual tasks or projects in one of Treasury's departments and, depending on interest and skills, will perform some or all of the following:
Asset Management
Client Advisory
Compliance & Risk Management
Financial Infrastructure & Banking Operations
Fintech & Innovation
Financial Solutions
Funding
Products, Knowledge & Research
Sustainable Finance & Investor Relations
Structured Finance & Quantitative Modeling
Pension Investments
Pension Middle Office
Eligibility Criteria for the World Bank Treasury Summer Internship Program 2024.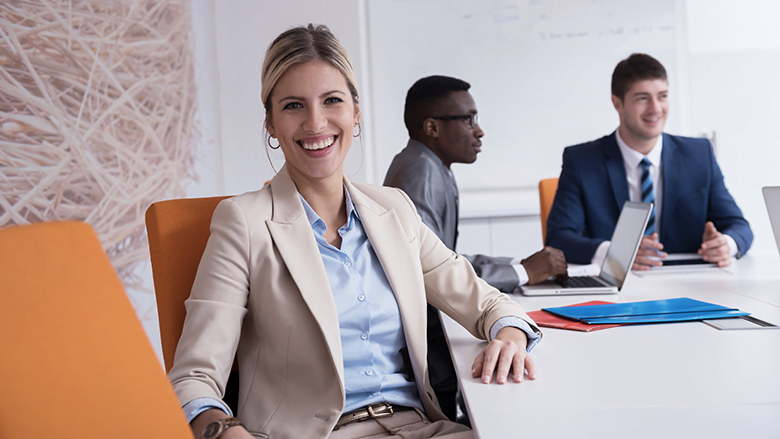 Eligibility
We ask that all applicants meet the following core eligibility requirements to be consistent with the program's goals. Applicants must have these core requirements to be considered for the World Bank Treasury Summer Internship Program 2024.
Must be enrolled in the second-to-last year of the equivalent of a four-year college degree program with a demonstrated interest in finance, business, economics, or a related field;
Must be prepared to graduate with a college degree between January and September 2025;
Must be in good academic standing at their college or university;
Must be available full-time through the duration of the internship;
Must not have a concurrent employment contract or internship.
Please note: Disqualification or termination may result from misrepresenting an application.
Read also: Top 5 Entry-Level IT Jobs in Australia with Jaw-dropping Paychecks.
Application Requirements
All applicants must submit the following documents for the World Bank Treasury Summer Internship Program application:
One-page PDF cover letter
One-page PDF resume

Optional
Half-page PDF diversity statement
The World Bank Treasury is proud of its strong community of colleagues from incredibly diverse backgrounds. Although entirely optional, applicants are encouraged to submit a maximum half-page to describe their background and how they believe this would contribute to our workplace.
How to Apply for the World Bank Treasury Summer Internship Program 2024.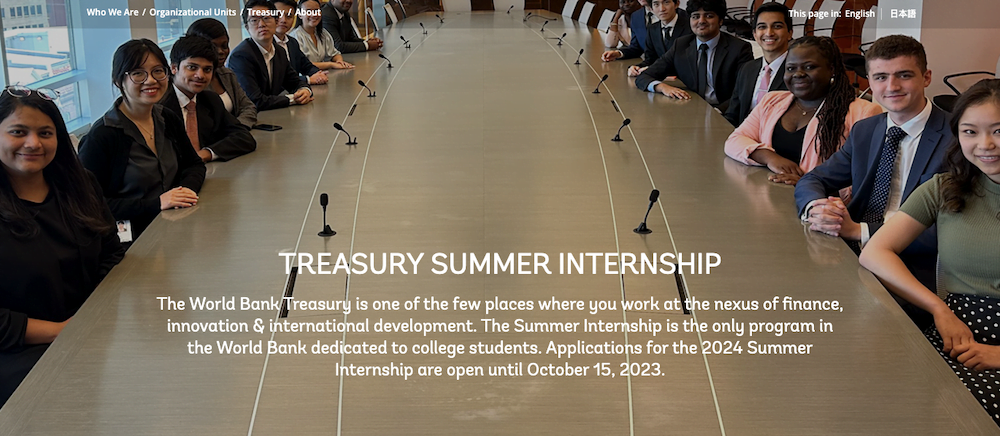 Only complete applications will be accepted. Please read the following before submitting your application for the World Bank Treasury Summer Internship Program. Although not required, we encourage applicants to use the suggested cover letter template and resume template and submit them as a PDF.
You may also like;
Commitment to Diversity, Equity & Inclusion
At the World Bank Treasury, we believe that poverty and excellence know no borders. Our Team comprises employees from Chennai, Paris, Sofia, Singapore, Tokyo, and Washington, representing over 60 nationalities. Our leadership team comes from diverse regions of the world. We take pride in being an inclusive and equal-opportunity employer that does not discriminate based on gender, race, ethnicity, religion, disability, sexual orientation, or gender identity. Our Treasury has a dedicated Diversity, Equity & Inclusion Team that guides hiring protocols, career growth, and outreach.
Evaluation Process
The committee will carefully examine all complete applications submitted on time through the World Bank Treasury Summer Internship Program 2024 application portal. Those victorious will then be required to take a remote test, and a chosen few will be invited to interview with the committee. All applicants will receive notification of the outcome by December.
Read also: Top 17 Highest Paying Jobs In Australia.
Application Deadline:
The World Bank Treasury Summer Internship Program application period for the 2024 Summer Internship is open until October 15, 2023.