Ajayi Crowther University [ACU] Exam Timetable 2nd Semester 2019/2020: Ajayi Crowther University (ACU) Final Online Examination Time-Table Schedule for Second (2nd) Semester 2019/2020 Academic Session is out.
This is to inform all students of the Ajayi Crowther University (ACU) that the Second Semester examinations will commence on 5th August, 2020 and end on 21st August, 2020.
RELATED: ABUAD Online Exam Guidelines & Portal 2019/2020 – www.abuad.edu.ng
The Vice-Chancellor has approved the conduct of the second-semester examinations using the online mode EXCEPT for the students of the Faculty of Law.
Examinations for students in the Faculty of Law will take place between Wednesday, 5th August 2020 and Saturday, 8th August 2020. Students in this Faculty will write their examinations at designated centers as published on the University website.
To give students time to rest for a while after the mid-semester examination and have time to prepare for the second-semester examinations, the second-semester examinations have been rescheduled to commence from Monday, 10th August, to Friday, 21st August 2020.
Recommended posts:
Ajayi Crowther University Second Semester Exam Timetable.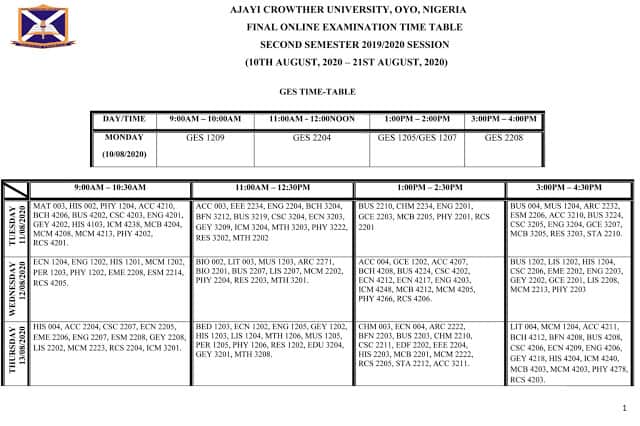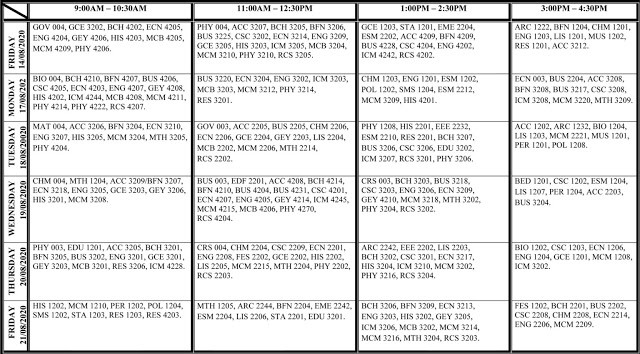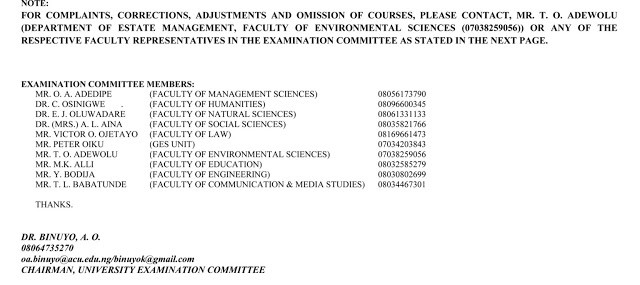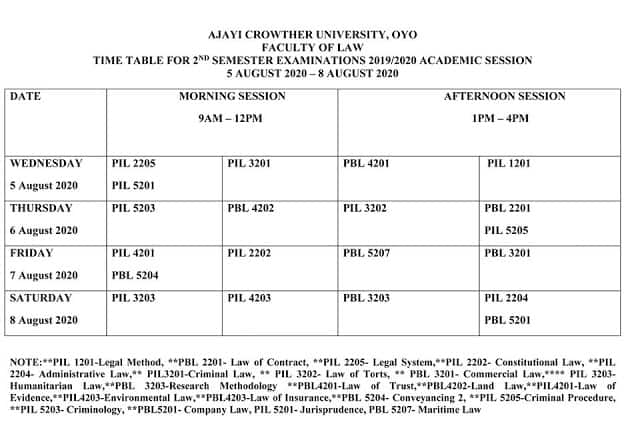 All students are strongly advised as follows:
To check the university website regularly for updates on the examination timetable.
Only those who have completed payment of their tuition fees will be given financial clearance to enable them to participate in the second-semester examination.
ACU Exam Timetable – Centers for Faculty of Law Students 2019/2020
S/N
  CITY/TOWN
CENTRE
1.
  Lagos (Ikeja)
  Vining Hall, AVMCC Cathedral, Ikeja
2.
  Lagos (Marina)
  Lagos Anglican Diocesan Seminary, Broad Street, Behind Christ Cathedral, Marina,     Lagos
3.
  Lagos Mainland
  CMS Grammar School, Bariga
4.
  Abuja
  Hall of Cathedral Church of Advent, Gwarimpa, Abuja
5.
  Abeokuta
  Crowther Graduate Theological Seminary, Isale Igbein, Abeokuta
6.
  Ibadan
  Hall of Christ Church, Mapo, Oja-Oba, Ibadan
7.
  Uyo
  Cathedral Church of All Saints, Uyo.
8.
  Calabar
  Cathedral of Holy Trinity,
81, Calabar Road, Calabar
9.
  Port Harcourt
  Bishop Crowther Memorial High School, Opposite Shell industrial Area Office, Old Aba Road, Rumuobiokani.
10.
  Warri/ Ughelli
  St. Andrew's Cathedral Hall, 22, Okere Road, Warri
11.
  Akure/Ado Ekiti/Ondo
  Archbishop Vining College of Theology, Akure.
12
  Ilorin
  St. Barnabas' Cathedral, Sabo-Oke, Ilorin.
13
  Jos
  Christian Institute, Old Lamingo Road, Nabor Gwong (Eto Baba Area) Jos.
14
  Kaduna
  St. Michael's Cathedral Hall, 53, Ibrahim Taiwo Road, Kaduna
15
  Minna
  St. Peter's Cathedral, Keteren Gwari Road, opposite General Hospital, Minna.
16
  Oyo
  Ajayi Crowther University, Offa Meta Campus.
17
  Asaba
  St. Peter's Cathedral, Asaba
18
  Osogbo
  Cathedral of All Saints, Isale-Aro, Osogbo
19
  Ile Ife
  St. Phillip's Cathedral, Ayegbaju, Ile-Ife
20.
  Benin
  St. James' Anglican Church, Akpakpava Road, Benin City
21
  Yenogoa
  St. Peter's Deanry, Yenagoa, Bayelsa
22.
  Kabba
  St. Andrews Cathedral, Kabba, Kogi State
Students are at liberty to write the examination at any centre closest to their residence. They are responsible for their accommodation.
Ajayi Crowther University Exam Guidelines for Students.
Students must be seated at the examination halls (without incriminating materials) at least 20 minutes before the commencement of the examinations. All examinations must commence promptly as indicated on the time-table
Invigilators should admit the students into the examination halls using the student's identity cards.
Invigilators should only permit students that are corporately-dressed in Law uniform (Black and White). Non-law students from Political Science Department should also be well-dressed, but not necessarily in black and white dress.
Above is for due information and compliance.