Oyo TESCOM Oral Interview Schedule for Non-Teaching Staff on Conversion: On this page, you will find information related to Oyo TESCOM Recruitment Exercises: The Applicants, Their Credentials, The Portal 2020.
As the five days earmarked for the uploading of credentials for applicants into Oyo State Post Primary Schools Teaching Service Commission, TESCOM, enters the second day, fear keeps gripping thousands of applicants as they are unable to access the portal designated for the upload.
READ ALSO: How to Access CBN Healthcare Research and Development Grants
The State TESCOM Information Officer, Mr Raji Kolawole, in an interactive session with the MEDIANGR, noted that the Commission is working assiduously to ensure that applicants have access to the portal and be able to upload their documents as soon as possible.
When asked about one of the Examination timetable flying on Social Media, Mr Raji explained that the timetable is for Non-Teaching Staff of the Commission that are yet to be fully absorbed; adding that the timetable, as written on it, is a conversation oral interview schedule.
READ ALSO: Oyo TESCOM Existing Applicants To Upload Their Credentials Portal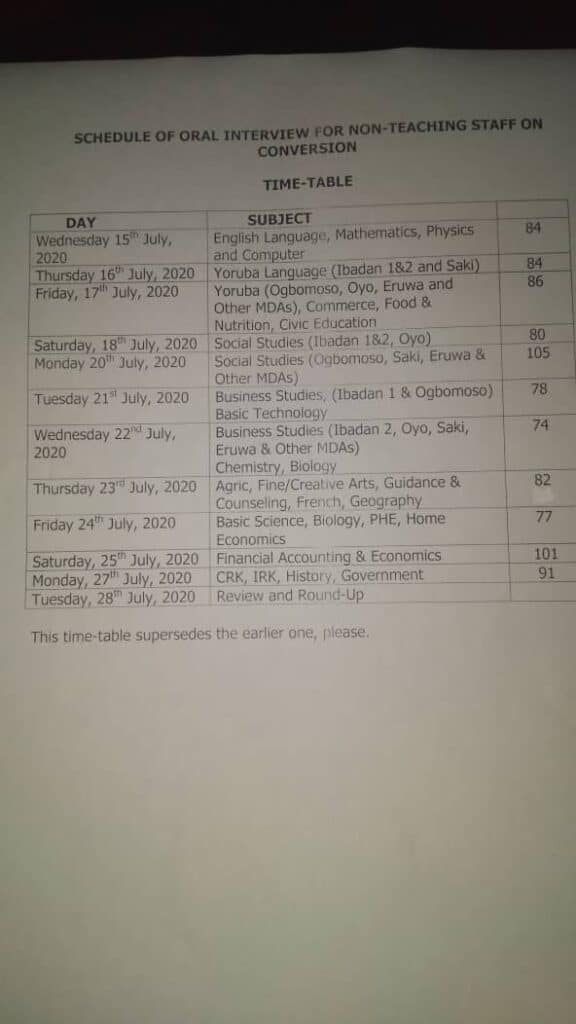 It would be recalled that on Thursday, July 9, 2020, the Commission had directed all applicants that have obtained and submitted application forms in the ongoing TESCOM recruitment exercise to visit jobportal.oyostate.gov.ng and upload details of their credentials and personal data between Monday, July 13 and Saturday, July 18, 2020.
On Friday, July 10, 2020, the Commission, through its Information Officer, added another website address to be used for the credentials' upload.
The second website address submitted to the MEDIANGR is: http://www.tescom.oy.gov.ng.