Do you know the secret hack to restart your iPhone in times when it misbehaves? When your iPhone is acting up, the best first step to try is a restart. A simple reboot often flushes away temporary bugs and glitches for all devices, and your iPhone is no exception.
Unlike a computer, however, there is no restart option preset on your iPhone. Instead, you fully shut down your iPhone, then power it back on to force a reboot. As it turns out, though, there is a way to do a restart on your iPhone—it's just hidden.
Read also: Ghent University is Offering PhD Scholarships to Students from Developing Countries
You might already know that you have a couple options when it comes to shutting down your iPhone. You can press and hold a volume button and the Side button together to bring up the shut down slider, or dive into Settings > General and choose Shut Down from the bottom of the page.
And then there's the hard reset: When your iPhone is unresponsive and can't be shut down, you can quickly press and release the Volume Up button, quickly press and release the Volume Down button, then press and hold the Side button to force your iPhone to shut down. If you keep the Side button held down, your iPhone will eventually turn back on. A hard reset bypasses iOS' usual steps when shutting down your iPhone, though, so it isn't the preferred way to go about things.
So how are you supposed to restart your iPhone without shutting it down first?
Siri will restart your iPhone for you
If your iPhone is updated to at least iOS 16 (we're currently on iOS 16.2), you can simply ask Siri to restart your iPhone for you. As reported by CNET's Nelson Aguilar, all you need to do is unlock your iPhone, then say something like "Hey Siri, restart my iPhone," and the digital assistant will respond in kind: "Just to confirm, you want to restart this device?" Say yes, or tap "Restart" on the pop-up, and your iPhone will go black. After a few seconds, you'll see the Apple logo appear on its own, and, after some time, your Lock Screen will light back up.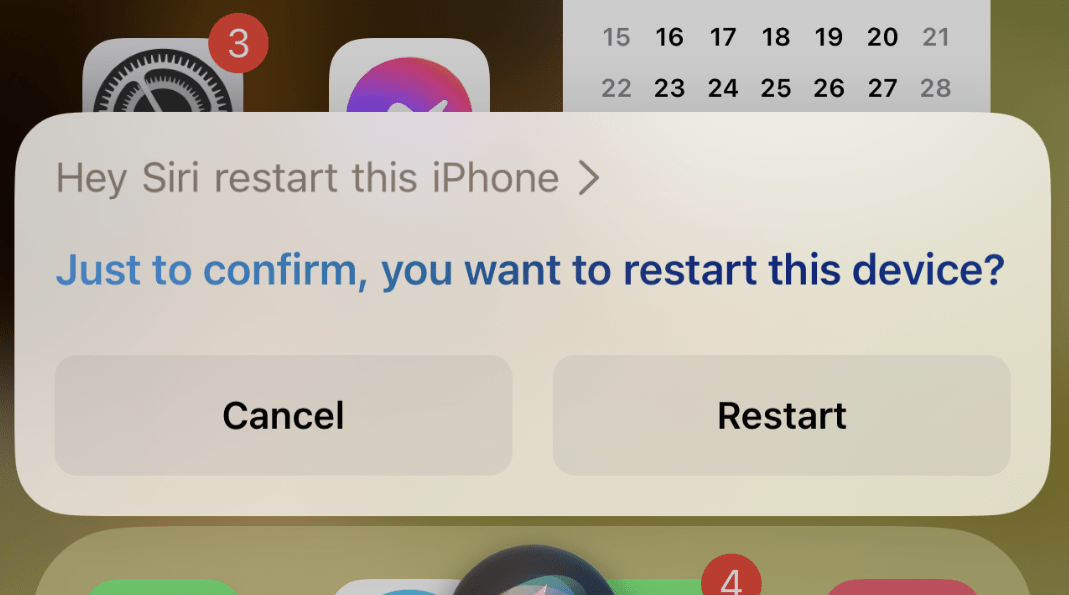 In case you're wondering, you can also ask Siri to shut down your iPhone, so you don't have to lift a finger to turn it off. However, you will have to boot it back up by hand. It seems Apple hasn't figured out how to keep Siri working while your iPhone is powered off.