Apply for CMU-Africa Mastercard Foundation Scholars Program 2023/2024 for Talented Students.
CMU-Africa and the Mastercard Foundation have partnered to support students whose talent and promise exceed their financial resources. The graduate students complete their Master of Science degrees in Information Technology, Electrical and Computer Engineering, or Engineering Artificial Intelligence. Upon completion of the program, the Scholars go on to lead changes in their communities and contribute to meaningful transformation across the continent.
CMU-Africa is part of a global network of 33 Scholars Program partners, comprised of institutions committed to developing Africa's young leaders.
Related: APN Collaborative Working Group Research Fellowships 2023/2024.
Overview of the CMU-Africa Mastercard Foundation Scholars Program.
The Mastercard Foundation Scholars Program was established at CMU-Africa in 2016. The program provides generous financial, social, and academic support for students whose talent and promise exceed their financial resources. With a vision that education is a catalyst for social and economic change, the program focuses on developing leaders who are transformative, encouraging them to be active contributors in their communities.
Benefits of this Program.
The CMU-Africa Mastercard Foundation Scholars Program focuses on:
Holistic support: The scholarship covers application preparation support, orientation, tuition and fees, health insurance, travel and basic living expenses, project, and entrepreneurship support. Scholars also have access to a range of resources that support their well-being and academic success.
Career preparation: Scholars benefit from tailored activities to prepare them for the workplace. Throughout their studies, they participate in professional development activities including, but not limited to, internship and career fairs, networking opportunities with industry leaders, one-on-one career coaching that prepare them to pursue their goals upon graduation.
Leadership development: Scholars develop leadership skills through participation in student clubs, community service, and a variety of programs that equip students to become change-makers. During their time at CMU-Africa, the Scholars take a series of leadership training sessions tailored to their needs to ensure they are equipped with cutting-edge leadership skills that will enable them to lead with distinction.
Giving back: Scholars live out the give-back ethos of the Mastercard Foundation Scholars Program by leading and participating in community service activities, developing, and implementing projects that make a difference in the lives of others. They collaborate with the members of the CMU-Africa community to push their give-back agenda.
Read also: Prince of Songkla University PhD Scholarships 2024/25 for International Students.
Eligibility Criteria
Scholars face social and economic barriers and have demonstrated the following attributes:
Academic talent: Scholars value learning and have the drive to complete their education.
Commitment to giving back: Scholars have demonstrated a commitment to improving their communities.
Potential to lead: Scholars will become role models, mentors, and change-makers.
In order to be considered for the Scholars Program, students must first be admitted to one of CMU-Africa's degree programs. Learn more about tuition and financial aid and how to apply to CMU-Africa.
How to apply CMU-Africa Mastercard Foundation Scholars Program 2023/2024.
Deadline: The application closing date for the CMU-Africa Mastercard Foundation Scholars Program is January 15, 2024.
Step 1: Submit an online application
You will need these documents to fill out our written application:
Unofficial transcript: You do not need a notarized official transcript from your university to apply. If you are in your final year of study toward a bachelor's degree, please upload your unofficial transcripts up until the most recent semester. Upon admission to our programs, you will be requested to bring your official transcript to verify your credentials. Learn more about transcript requirements.
Essay or statement of purpose: This is an opportunity to tell the admissions team about yourself and explain why you want to attend CMU-Africa. Students at Carnegie Mellon are engaged in intellectual activity consistent with the highest standards of the academy. For this reason, plagiarism will not be tolerated and any applicant found to have committed plagiarism will be denied.
An up-to-date CV: Upload a concise document showing your professional and academic experiences to date.
Recommendations: Upload the contact information of three individuals who can provide the application team with a recommendation for you. Select people who know you well, for example, a current/former professor, a supervisor at work, a community leader, etc.

MSIT/MS EAI: You will not need letters of recommendation while applying—the application team will contact your references.
MS ECE: Your recommenders will receive an email that allows them to submit a recommendation letter for you. You can track the progress of the letter on your application status page.

Upload a valid ID or passport: National ID and passport are the accepted forms of ID for your application.
Step 2: Complete competency tests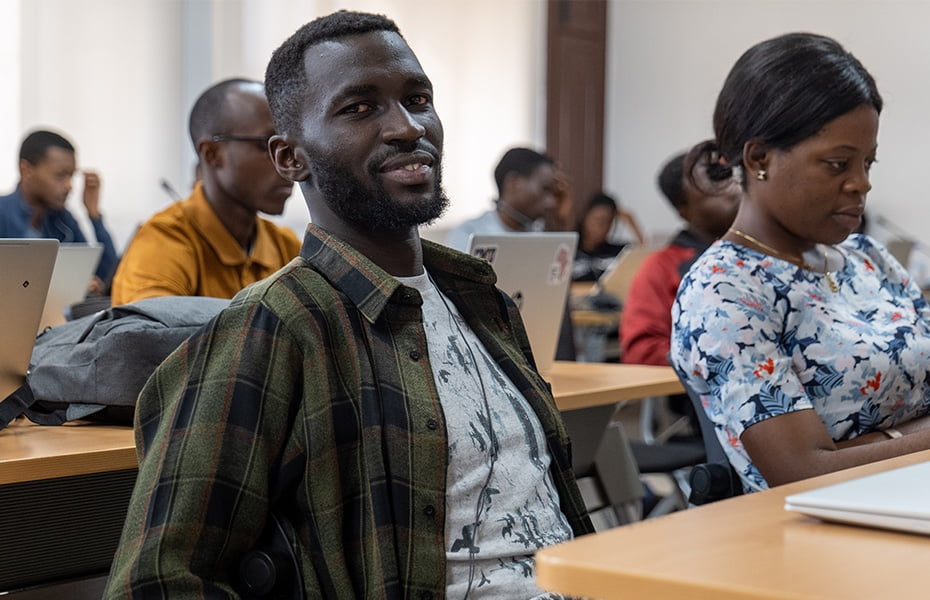 Required tests
Language scores: All non-native English speakers must submit at least one valid score report from one of the following examinations: IELTS, TOEFL or the Duolingo English TestOpens in new window (DET).The DET includes a proficiency composite score, section subscores, video interview, and writing sample which are shared with CMU-Africa when you send your results. Certified results are available within 48 hours of the test session. For more information, please visit Duolingo English TestOpens in new window. Please also review the accepted identification for test takers of the DET.We recommend that students have a minimum of 79 on TOEFL, 6.5 on IELTS, and 120 on DET. Students with lower English proficiency levels might be required to take the Academic Skills course in their first year. Please note: Applicants with undergraduate degrees from the USA, U.K and Canadian universities are exempt from providing English language exam scores with their application.
Technical test: Assesses your analytic and quantitative skills, as well as programming logic.
Applicants can take these tests online under video monitoring, which will require a high bandwidth internet connection.
Practice tests
Access Duolingo practice tests by registering in the test center.
Need help with your application?