SME Growth Lab-Bujeti Accelerator Program 2023 | N500K Grant COHORT 4.
SME Growth Lab Africa is thrilled to announce an exciting partnership with Bujeti. This collaboration marks a significant step in bolstering the growth and sustainability of SMEs in Nigeria.
As part of this partnership, a grant totalling N500,000 will be shared among the top 5 entrepreneurs who exhibit outstanding performance within the digital accelerator program. Our overarching objective is to reach and positively impact hundreds of SMEs throughout Nigeria by equipping them with essential business training, mentorship, and support. Through this initiative, we aim to enable SMEs to surmount business obstacles, nurture their enterprises, and actively contribute to the advancement of the economy.
Read also: UNIABUJA Japanese Karaoke Competition 2023 (APPLY NOW).
Overview of SME Growth Lab Africa.
SME Growth Lab Africa (SGL Africa) is a Digital Accelerator Program designed to empower business owners with digital skills, knowledge, mentorship and community events with the aim of transforming their businesses and driving economic growth.
Africa is currently positioned for growth, but for that to happen, businesses need to be empowered to contribute tremendously to each country's GDP.
Through SME Growth Lab Africa, business owners who are from emerging African countries can get equal access to business training, support, mentorships, and community events.
Bujeti enables African businesses to take control of their spending through a centralized platform.
The primary mission of this endeavour is multi-fold:
Equip numerous SMEs across Nigeria with vital business training, mentorship, and consistent support.
Enable SMEs to navigate and overcome business challenges with ease.
Foster a nurturing environment where businesses can thrive and, in turn, substantially contribute to Nigeria's economic growth.
Benefits of this Programme.
Those who partake in the SME Growth Lab-Bujeti Accelerator Program stand to gain a plethora of benefits:
Comprehensive training focusing on business expertise, encompassing areas like sales, marketing, finance, and legal facets.
Exclusive access to a vibrant entrepreneurship community.
Guidance and mentorship from seasoned business professionals.
An abundance of business resources at their disposal.
A certificate upon successful completion of the programme.
Round-the-clock support.
Eligibility Requirements
Aspiring participants should:
Be a business owner based and operating within Nigeria.
Fall within the age bracket of 18 to 40 years.
Show commitment to attending all virtual sessions and group calls.
Exhibit a keen interest in volunteering and actively engaging in community sessions.
How to Apply for SME Growth Lab-Bujeti Accelerator Program.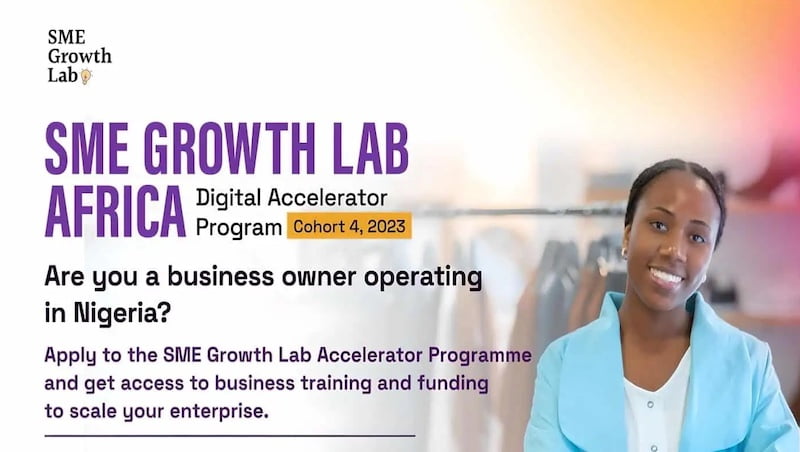 Qualified and interested entrepreneurs can apply for a comprehensive 4-week business training session scheduled for November 2023. However, it's very important to note that the SME Growth Lab-Bujeti Accelerator Program application window closes on October 27, 2023.
Apply Now for this transformative experience.
For a detailed overview and more insights, visit the SME Growth Lab/Bujeti Accelerator program's official website.
ABOUT SME GROWTH LAB AFRICA
On a Mission to Transform Businesses in Africa: SME Growth Lab Africa is a community Impact Project created to upskill Small and Medium scaled businesses, especially across the underserved communities in Africa.
Growing Founders are trained in business acumen, sales, marketing, and leadership development. Through the program, selected participants have access to diverse business resources, strategic partnerships, mentorships, and exclusive community events.
Our vision is to transform the African economy one business at a time.
SME GROWTH LAB AFRICA'S VISION: Empowering 500,000 small and medium-sized businesses operating in underserved communities in Africa by providing them with business and digital skills, through intensive training, mentorship, legal support, and business expansion opportunities.
Conclusion
Embarking on this journey with the SME Growth Lab/Bujeti Accelerator Program promises not just business growth but an opportunity to be a part of Nigeria's economic revolution. Don't miss out on this opportunity to redefine your entrepreneurial trajectory!