African Liberty Essay Contest 2023: Are you a student from Africa who is passionate about free speech and has a talent for writing? If so, the African Liberty Essay Contest 2023 provides a special opportunity for you to express your thoughts on safeguarding free speech in Africa. Not only can you compete for cash prizes, but you can also have your work published.
African undergraduate and postgraduate students enrolled in accredited global institutions can participate in the African Liberty Essay Contest 2023 by expressing their ideas on critical social issues.
This year's theme focuses on "Pathways to Protecting Free Speech in Africa: Opportunities for New Approaches to an Old Problem," inviting students to contribute thought-provoking essays on this crucial subject.
Apply also: Wema Bank Banker-In-Training Recruitment.
Background: African Liberty's Mission and History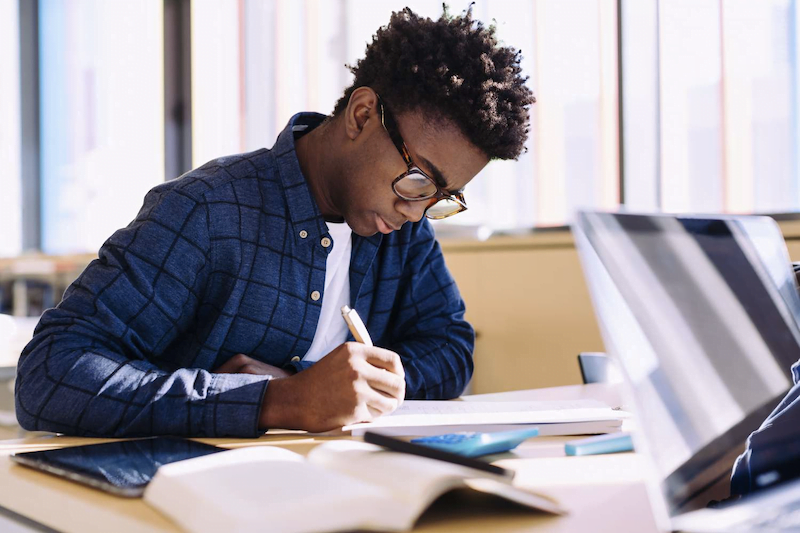 African Liberty was established in 2007 as a joint effort between the Cato Institute, IMANI Africa, and the Atlas Network. The platform aims to promote peace, individual freedom, and prosperity throughout the African continent. It provides a space for civil discourse on various topics, such as social, legal, economic, and global issues, which allows young African advocates of freedom to develop critical writing skills.
African Liberty also partners with Africa-focused think tanks and media outlets to help these emerging voices pursue careers in journalism and public policy.
Prize Incentives: What Stands to be Gained?
Monetary Awards
The competition offers an array of cash prizes:
The winner will receive a $500 cash prize.
The first runner-up will secure a $300 cash prize.
The second runner-up will take home a $200 cash prize.
Additionally, the third and fourth runners-up will each receive $100.
Publishing Opportunities
Additionally, the African Liberty and Students For Liberty platforms will publish the top five essays, providing them with more exposure.
You may also like;
Eligibility Criteria for African Liberty Essay Contest 2023.
Nationality Requirements
In order to be considered, applicants must hold citizenship in an African country and can confirm their African heritage.
Educational Standing
Candidates who are currently enrolled in an accredited university within Africa or globally, or who have completed their degree within three years prior to the application deadline, are eligible to apply.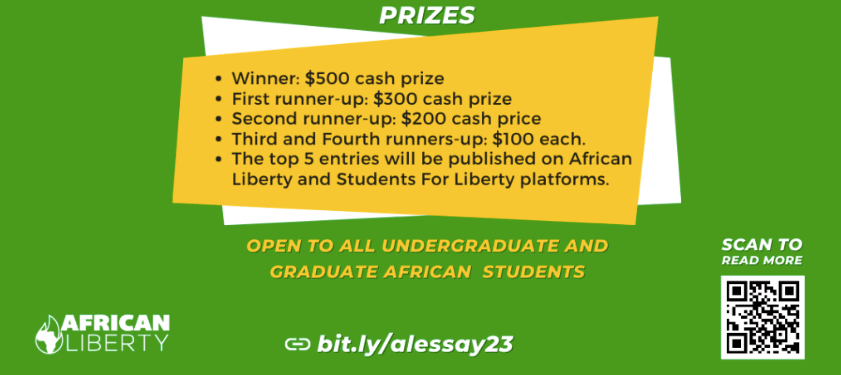 Guidelines for Submissions: Quality, Not Quantity
Language and Formatting
Entries should predominantly be in English, with any non-English terms italicised. Adherence to a 12-point Times New Roman font with justified alignment is required.
Originality and Citations
The essay must be an original piece of work. Use of footnotes or citations is not permitted, and quotations should be used sparingly.
Specificity and Solution-Orientation
Essays should demonstrate a solution-oriented approach, providing specific arguments and recommendations. Unique perspectives are highly encouraged.
Apply also: Fidelity Bank Graduate Trainee Program.
How to Submit Your Entry for African Liberty Essay Contest 2023
Entries should be submitted as PDFs, with the writer's name and email address clearly indicated on the first page. Applicants are invited to submit their essays through this submission link.
Apply here: https://www.africanliberty.org/2023essay/
For further details on the contest, prospective applicants may visit the official African Liberty Essay Contest page.
The African Liberty Essay Contest 2023 is a great opportunity for young Africans to intellectually engage with the challenges and solutions concerning free speech in Africa. Participants can win attractive cash prizes and have their essays widely published, which not only offers rewards but also positively contributes to critical discussions affecting the continent.