Housemaid Cleaning Services Jobs in Canada by Ideal Maids Inc: Maids are responsible for keeping residences and commercial establishments clean and tidy.
They perform various cleaning tasks, which include mopping, vacuuming and sweeping floors, washing carpets, replacing dirty linen, and wiping down kitchen counters.
Job details
Location: Taravista Crescent NE suite 53Calgary, ABT3J 4N8On the road job
Salary: $16.00 hourly for 40 hours per week
Terms of employment: Permanent employment
Full time
Day, Morning
Start date: Starts as soon as possible
Benefits: Other benefits
 Vacancies: 4 vacancies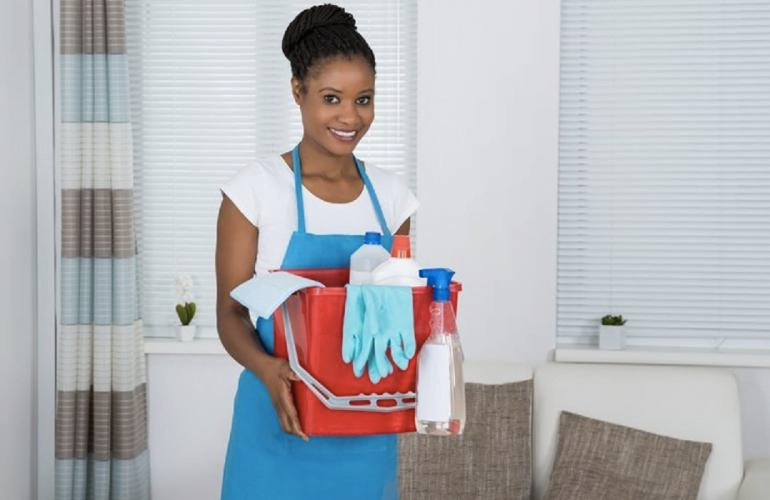 We are looking to hire a trustworthy, hard-working maid to perform various cleaning duties as our clients require. The maid's responsibilities include replacing dirty linen and towels, sweeping driveways and walkways, washing, drying, and putting away dishes. You should also inform management of any accidents that result in broken or damaged appliances or fixtures.
To be successful as a maid, you should be physically fit and able to work with minimal supervision. Ultimately, an outstanding maid should be able to multitask and demonstrate exceptional cleaning, communication, and time management skills.
Read also: Canada Relocation: See 7 Easiest and SAFE Ways To Move To Canada.
Maid Responsibilities:
Keeping carpets and rugs clean and odour-free by shampooing, vacuuming, and applying deodorizers as needed.
Sweeping, mopping, dusting, and vacuuming to remove dirt, debris, and dust from floors and other surfaces.
Washing windows and walls as well as polishing woodwork as needed.
Scrubbing toilets, showers, baths, and bathroom sinks as well as removing mildew buildup and mold from various surfaces.
Wiping down kitchen appliances, equipment, and counters to remove dirt, grease, and grime.
Regularly emptying wastebaskets and disposing of all rubbish.
Washing, drying, and folding bedding and towels.
Maintaining an accurate record of all cleaning tasks completed each day.
Laundering clothing as required.
Maid Requirements:
High school diploma or GED.
Proven cleaning experience.
Sound knowledge of different cleaning methods.
The ability to work with minimal supervision.
The ability to multitask.
Excellent organizational, time management, and problem-solving skills.
Effective communication skills.
Exceptional cleaning and customer service skills.
Physically fit and detail-oriented.
Overview | Housemaid Cleaning Services Jobs in Canada by Ideal Maids Inc.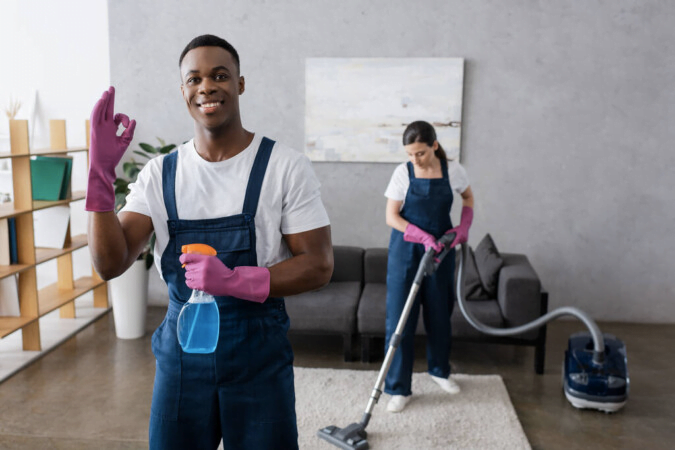 Languages
English
Education
No degree, certificate or diploma
Experience
Will train
On-the-road job
Work locations may vary. Frequent or constant travel is required from the employee.
Green job
 The employer stated that this is a green job because of the position:
Involves duties and responsibilities that lead to positive environmental outcomes
Work setting
Work in employer's/client's home
Cleaning service company
Various locations
Private residence
Read also: Truck Driver Jobs In Canada With VISA Sponsorship 2023/2024 Apply Now!!
Responsibilities
Tasks
Sweep, mop, wash and polish floors
Dust furniture
Vacuum carpeting, area rugs, draperies and upholstered furniture
Make beds and change sheets
Clean, disinfect and polish kitchen and bathroom fixtures and appliances
Pick up debris and empty trash containers
Wash windows, walls and ceilings
Address customers' complaints or concerns
Additional information
Security and safety
Bondable
Criminal record check
Driver's validity licence check
Driving record check (abstract)
Work conditions and physical capabilities
Fast-paced environment
Tight deadlines
Repetitive tasks
Physically demanding
Attention to detail
Combination of sitting, standing, walking
Standing for extended periods
Bending, crouching, kneeling
Benefits
Other benefits
Transportation provided by the employer
Screening questions
Are you available for the advertised start date?
Are you currently legally able to work in Canada?
Do you have previous experience in this field of employment?
Read also: Jobs in Canada For Foreigners With Visa Sponsorship 2023/2024 Apply Now!.
Who can apply for this job?
Only apply to this job if:
You are a Canadian citizen or a permanent resident of Canada.
You have a valid Canadian work permit.
If you are not authorized to work in Canada, do not apply. The employer will not respond to your application.
How to apply for Housemaid Cleaning Services Jobs in Canada by Ideal Maids Inc.
Are you interested in applying for the Housemaid Cleaning Services Jobs by Ideal Maids Inc in Canada? Then, find how to apply below.
By email
idealmaidsinc@gmail.com
By phone
403-248-8686 Between 08:00 AM and 05:00 PM
In-person
Taravista Crescent NE suite 53
Calgary, AB
T3J 4N8 Between 08:00 AM and 05:00 PM
Related Posts: