Free CAC Business Name Registration Form & Aggregators Email (PDF): As part of Federal Government's post Covid-19 Pandemic survival intervention to support micro and small businesses to formalise their businesses, the Federal Government has approved the free registration of 6,606 Business Names in each of the 34 states while Abia, Lagos and Kano will have 7,906, 9,084 and 8,406 respectively.
Consequently, all interested Micro and Small Entrepreneurs, Artisans, Craftsmen/Women (one or more persons) that are yet to formalise their businesses should take advantage of this rare opportunity.
READ: Nigerian Navy Resumes Recruitment Exercise 2020
Recommended posts:
Aggregators have been appointed to receive applications from interested persons in line with CAC requirements. The names and contact details of the aggregators can be obtained on the Commission's Website as follows: www.cac.gov.ng or Click Here to Download
The free registrations will start on the 19th October 2020. Don't be left out! Hurry now to any of the centres with the following documents to register your business:
Requirements for Filling the CAC Free Business Name Registration Form.
Three (3) Proposed Names

Two (2) Passport sized photographs

Valid Means of Identification

Phone Number/Email address
Also, Download Email of the Aggregators
Scan the completed form in PDF format together with a scanned copy of a recognized and valid photo identification (Data Page of International Passport, Driver's license, National Identity Card or Voter's Card) and sent via email to the Aggregator of your relevant State.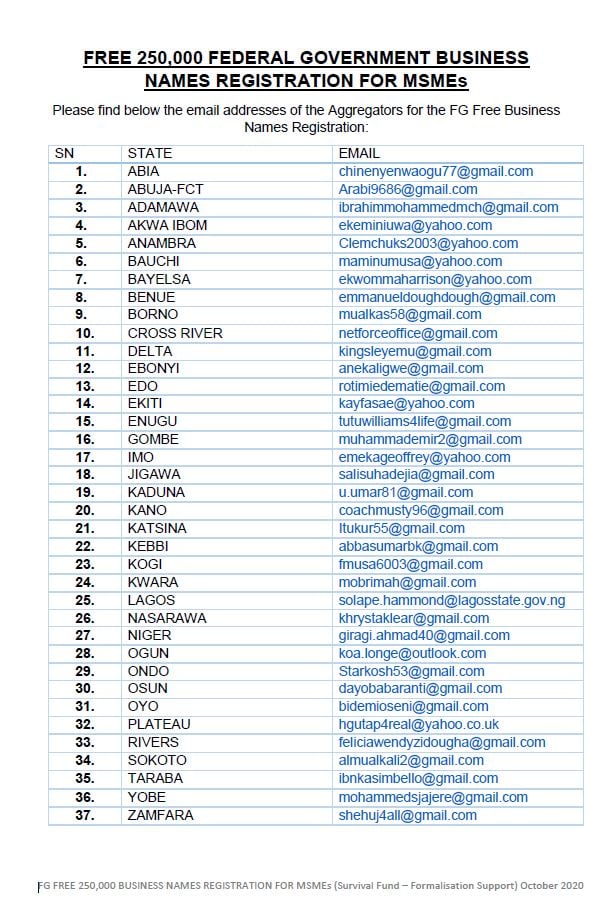 While in the other News, Mediangr.com.ng posted that the Nigerian Navy wishes to inform the general public of the resumption of online registration for the 2020 Recruitment Exercise for two weeks from 5 – 18 November 2020. It is to be noted that this is a continuation of the online registration which had commenced in March 2020 but was later suspended in April 2020 due to the COVID-19 Pandemic.
This was announced by the Commodore for Chief of the Naval Staff, Suleman Dahun. Interested candidates are to apply online at www.joinnigeriannavy.com. Applicants are advised to apply once as multiple application/registration will be disqualified.
Furthermore, applicants who have already registered before the suspension should not apply again to avoid disqualification. On submission, applicants are to print out copies of the completed Application Forms together with Applicant's Declaration and Certification by Parent/Guardian Form, Local Government Area Certification Form, Police Certification Form and Guarantor Form. Applicants are to come to the designated examination and recruitment centers with copies of their online completed Forms.
Also, note that the online registration is free of charge.