2022 Children's Prize to Combat Child Mortality: Do you have an effective intervention that aims to save the lives of children under five? Apply now for the Children's Prize 2022 to Combat Child Mortality.
Applications for the 2022 Children's Prize open June 20th!
The Children's Prize is awarded to scientifically-minded individuals with a passion for global child health and a strong commitment to verify the impact of their work. Between 2013 and 2021, the Prize has awarded over $2,000,000.00 to such individuals and organizations across the globe.
READ ALSO: UNIABUJA Sustainable Development Centre Admission Form 2021/2022
In 2014, two projects were selected as case studies to strengthen the development and more accurately determine the impact of child mortality of a Prize focused on data and scientific proof. These case studies served as real-world scenarios to help us better understand what changes needed to be made in terms of data collection and analysis, and how the Prize could be refined to best address those needs.
The Children's Prize is a program of The Children's Prize Foundation, a US 501c3 private not for profit foundation.
The Problem
Child mortality is a core indicator for child health and well-being, in which child survival remains an urgent concern. It is unacceptable that about 14,250 children die every day- equivalent to about 10 deaths occurring every minute.
Majority of these deaths can be attributed to treatable causes, infectious diseases and neonatal complications being responsible for the vast majority of under-five deaths globally. According to the latest estimates by WHO and the Maternal and Child Epidemiology Estimation Group, of the 5.2 million deaths in children under five that occurred in 2019, the leading causes of death were pneumonia, diarrhoea, and malaria.
Almost half of all under-five deaths are attributable to nutrition related factors, while more than 80 percent of neonatal deaths occur among newborn infants of low birth weights in the highest burden settings.
To learn more about current level and trends in child mortality, please visit World Health Organization.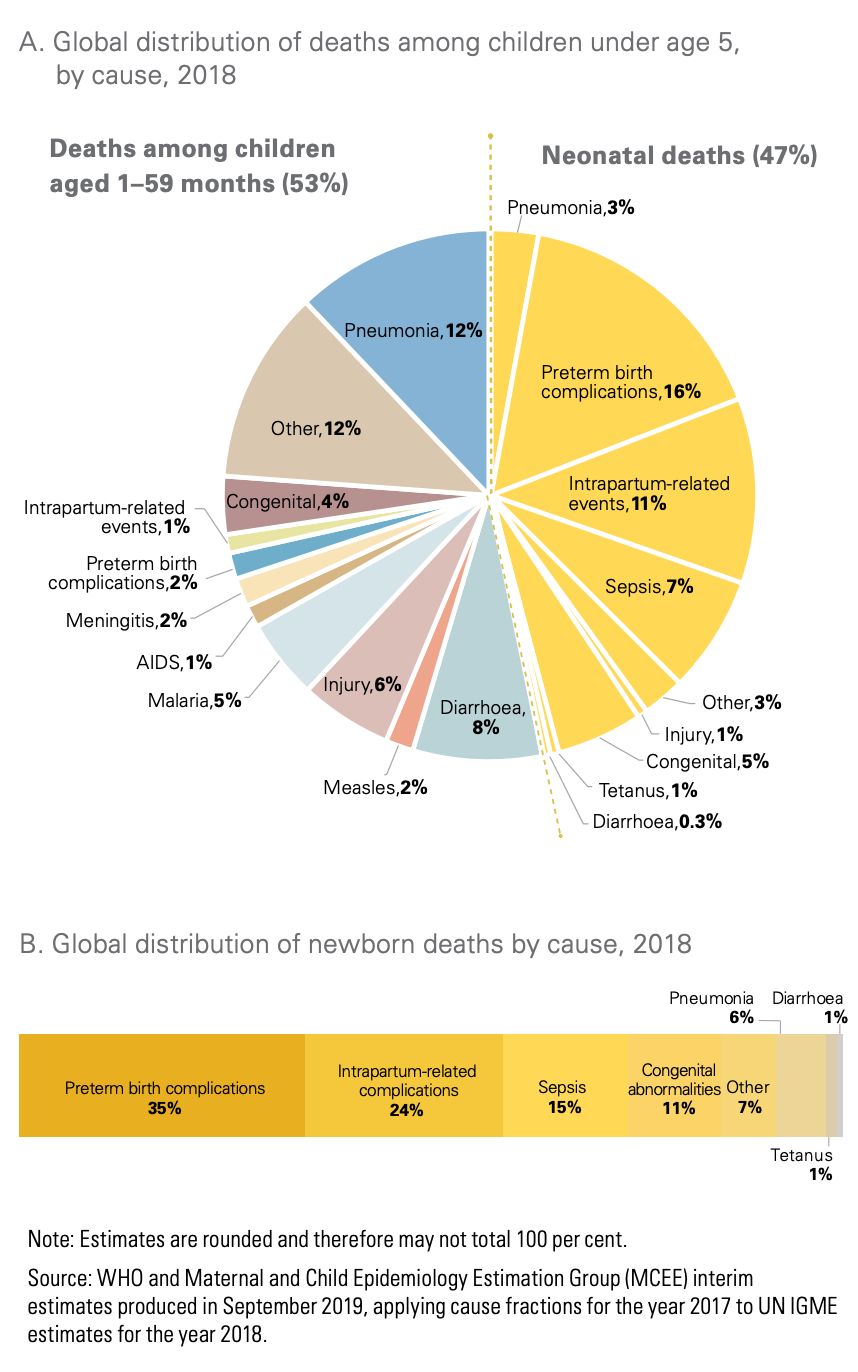 The Challenge (2022 Children's Prize)
Propose a ready-to-execute project plan that is focused on saving children's lives under-five.
Projects are evaluated on their:
ability to impact rates within a child mortality indicator (U5MR, IMR, NMR, etc.)
effectiveness
innovation and scalability of the intervention approach within global health
feasibility of the proposed lives-saved estimate
probability of success
ease of verification
inclusion of a process impact assessment
To ensure that more children under the age of five survive and thrive, we must harness knowledge from around the world and across a broad range of disciplines to find the most effective solutions. Project proposals submitted may include, but are not limited to, intervention solutions in healthcare services, technology, education, infrastructure and agriculture.
The Process (2022 Children's Prize)
The contest process includes three major rounds and two review periods. See details below.
Round 1: Contest participation kicks off with submission of the brief entry form. After all Round 1 submissions have been reviewed, applicants will be notified of their eligibility to continue.
Round 2: Invitation only. Those applicants selected from Round 1 will be asked to provide a more detailed application and required supporting material. Once the second round closes, there will be an additional review period to select finalists and applicants will be notified of the decision.
Round 3: Q&A and judging. Finalists will undergo a Q&A by the prize administrators and judges, and a thorough review of all materials submitted by the expert panel. Once this final review is complete, the judges then vote and the Prize winner announcement is made.
Project proposals are accepted and encouraged from applicants worldwide. The contest is open to any individual, organization, or team meeting the criteria.
How to Apply for 2022 Children's Prize.
Application Guidelines.
The Children's Prize contest (aka "the Prize") is open to all individuals, worldwide. The prize funds may only be used for charitable purposes, subject to expenditure responsibility.
Determination of eligibility is at the sole discretion of the Children's Prize Foundation (the "Prize Administrators" or "contest administrators"). Employees of, or any person associated with, the business operations of the Prize Administrators and their family members, may not compete for the Prize.
These guidelines are not a contract, nor do the Prize Administrators have any legal obligations to applicants. The selection methods chosen and all decisions regarding the selection process of the Prize are at the sole discretion of the Prize Administrators. The Prize Administrators reserve the right, in their sole discretion, to not award the Prize if they deem that no entry meets the goals of the Prize.
By entering the Prize contest, the applicant agrees that all material submitted to the Prize may be publicly showcased and shared by the Prize Administrators to promote the charitable actions proposed therein, the applicants, and/or the Prize itself. By entering, the applicant further agrees that Prize Administrators may edit, modify, merge, reproduce, translate, publicly and digitally display and redistribute the submitted materials in any form, and represents that the applicant possesses the authority to grant these rights to the Prize Administrators.
Applicants will retain all rights, title, and interest in the submitted materials not granted herein. Applicants agree that the Prize Administrators have no obligation of confidentiality or limitation of use on the submitted materials, notwithstanding any captions or markings attached thereto, except for information clearly designated as private by the Prize Administrators on Prize entry forms. Private fields will only be visible to the Prize Administrators and judges, and will not be shared publicly.
The following fields will remain private once the Entry Form is submitted:
Email Address
Annual Budget
Additional information concerning applicant's identity
The Prize Winner will be required to enter an agreement with The Children's Prize Foundation prior to disbursement of the funds. The agreement will contain, but will not be limited to, a schedule of fund disbursements and status reports, legal and financial disclosures and agreements, etc. Should it be necessary for liability or financial reasons, the Prize winner may be required to form an organizational entity, the costs of which may be paid out of the prize amount awarded.
METHOD OF APPLICATION:
Go to https://childrensprize.awardsplatform.com/
An applicant's eligibility is established by a Pre-Qualification Questionnaire prior to starting the Entry Form.
Application is basically a three-step process. The first step is to submit an entry form application detailing your project. This is reviewed and if your entry is selected for the next round, then an email invitation will be sent to you to complete a full Prize Plan application submission.
This is reviewed further and if your plan is selected for the next round, then a finalist email notification will be sent to you to participate in a required Question & Answer and Judging process.