Erasmus Mundus Joint Master Degree (EMJMD) Scholarship for International Master of Science in Rural Development: The International Master in Rural Development (IMRD), offers the opportunity to become an international expert on rural development in its diversity of approaches and applications.
Scholarships for masters and undergraduate students in developing countries are offered by both the European Commission (as is an Erasmus Mundus Joint Masters Degree EMJMD course) and the Belgian Government VLIR-UOS.
READ ALSO: Full Erasmus Mundus Scholarships 2022 Now Available For All Nationalities
The EMJMD student scholarships include:
a contribution to the students' participation costs (including the tuition fees, library and laboratory costs, full insurance coverage and any other mandatory costs related to the students' participation in the Master);
a contribution to student travel and installation costs;
a monthly subsistence allowance for the entire duration of the EMJMD study programme.
How to Apply for EMJMD Scholarship for International Master of Science in Rural Development
Details on the EMJMD student scholarship amounts are given in the table on this page here.
*Contribution to subsistence costs will not be given to scholarship holders for the EMJMD periods (study/research/internships/Case Study/thesis preparation) spent in their country of residence; or to scholarship holders from a Partner Country for the EMJMD periods exceeding three months (indicatively the equivalent of 15 ECTS credits) spent in any Partner Country.
Scholarship calculation scheme
Below a scheme on how scholarships are calculated per student.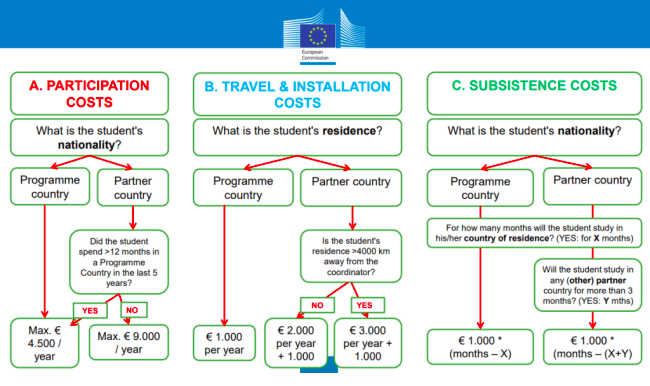 Scholarship Selection
Scholarships are awarded to a selection of top ranked candidates every year. The ranking is based on the following criteria which are submitted by the student during the application process:
• Prior degree relevance and level
• Academic pre-requisites
• Academic scores of prior degrees
• Reference letters
• Motivation
• Hypothetical thesis proposal
The final selection is done during the IMRD selection committee meeting at the end of March or early April.
The committee will select students for an Erasmus Mundus scholarship based on their ranking, student motivation, work experience, gender equality and choice of IMRD focus area.
Scholarship deadline
The deadline for scholarship application is 28 February. All applications submitted after this deadline will not be evaluated for an Erasmus Mundus scholarship.